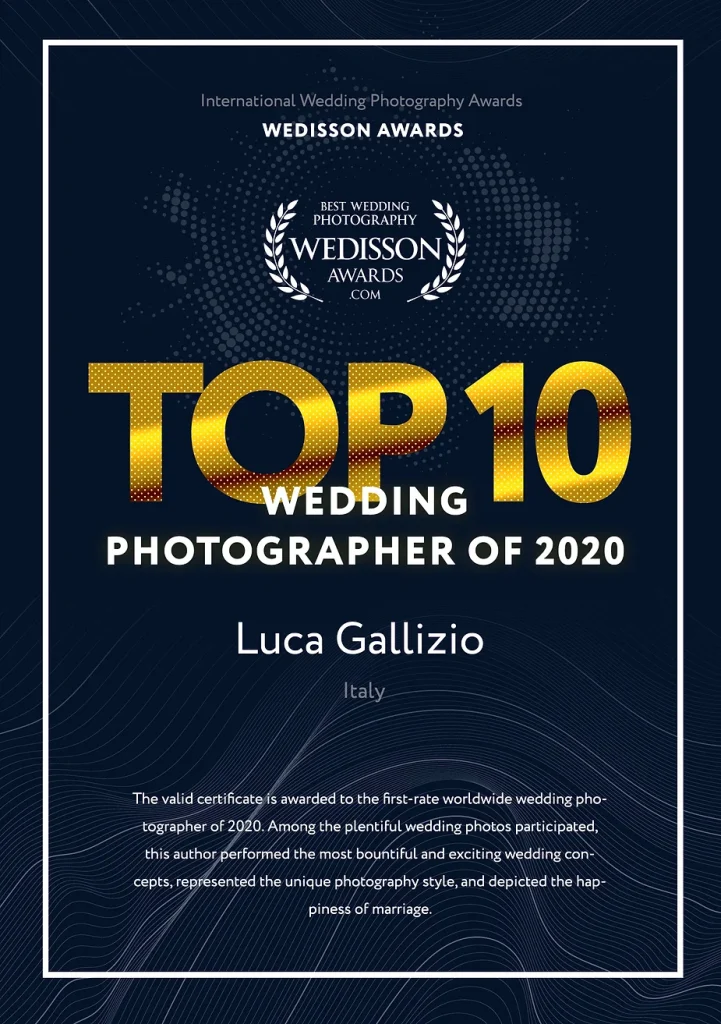 It is with immense pride that we exhibit this award given to us by Wedisson awards in the wedding sector which consoles us for this 2020 wedding season, which due to the virus crown has been largely postponed to 2021.
We were ranked in the top 10 of the best international wedding photographers. This was possible thanks to the incredible 2019 season that allowed us to obtain 16 Wedisson awards and many others in other sector associations.
This year we would have traveled all over Italy with our work, making incredible weddings, which only a few years ago we dreamed of being able to photograph, and obviously there is a bit of bitterness in the mouth, given the great sacrifices that we have always made for this work believing in quality and always offering it without compromise to our customers.
But we are sure that things will improve and it will soon be possible to return to "normal" again, appreciating every moment much more than before. Really loving this job, for us it is a real need to shoot so we can't wait to get back on the field. The 2020 season will begin in two weeks for us with the first wedding and then leave 100% in August and September. We really can't wait! in 15 years of activity this is the first year that we are not busy on weekends in June and it almost seems that summer has not really started yet …
On the other hand, 2o21 promises an unprecedented wedding season, where we have already reached almost the booking of all available dates and in which 60% of the booked dates will be outside the region. And at this moment we would only like to tele-transport us to next year to create incredible images around Italy.
This award is certainly a great recognition that we consider only the beginning of our career and that gives us a new stimulus to continue believing in what we do, and in the value that photography has. Because wedding photography is an important thing where quality is very complex to obtain.
I also want to thank all our couples who have allowed us to achieve this incredible result and which is certainly unexpected for us.
here are the images awarded by Wedisson awards that allowed us to be among the best wedding photographers of the year.